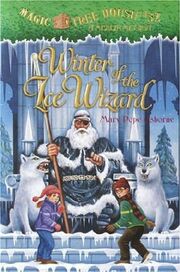 Winter of the Ice Wizard is the thirty-second installment to the Magic Tree House series and the fourth of the Merlin Missions.
Winter of the Ice Wizard

Book #

32

Previous

Next

Quartet

Publication date

September 28, 2004

Time setting

No information

Place setting

No information

Internal chronology

No information
Synopsis
Jack and Annie are joined by Teddy and Kathleen as they travel to the snowy Land-Behind-the-Clouds, where they search for the eye of the Ice Wizard and attempt to help Merlin and Morgan.
Chapters
Winter Solstice
Land-Behind-The-Clouds
The Ice Wizard
Take My Sleigh
The Norns
In the Hollow Hill
The Frost Giant
Return of the Eye
Wisdom of the Heart
Notes on time and place settings
Community content is available under
CC-BY-SA
unless otherwise noted.