Twister on Tuesday

Book #

23

Previous

Next

Quartet

Publication date

March 27, 2001

Time setting

1870s

Place setting

Midwestern prairie

Internal chronology

No information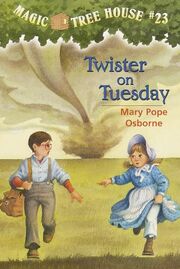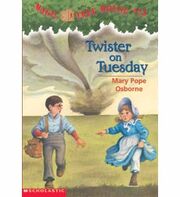 Twister on Tuesday is the twenty-third installment to the Magic Tree House series. The book is preceded by Revolutionary War on Wednesday and succeded by Earthquake in the Early Morning.
Synopsis
When Jack and Annie travel back to the Kansas prairie in search of "something to learn", they gain an understanding of how hard life was for pioneers and they experience the terror of a tornado.
Chapters
Tuesday!
Signs of Life
One-Room Schoolhouse
Reading Lesson
Bully
Grasshopper Attack?
Twister!
Get Below!
All Clear
The Third Writing
Notes on time and place settings
Community content is available under
CC-BY-SA
unless otherwise noted.