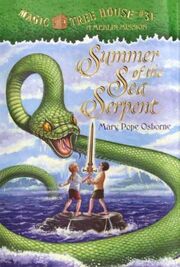 Stage Fright on a Summer Night

Book #

31

Previous

Next

Quartet

Publication date

March 9, 2004

Time setting

No information

Place setting

No information

Internal chronology

No information
Summer of the Sea Serpent is the thirty-first installment to the Magic Tree House series and the third of the Merlin Missions. During this mission, Jack and Annie meet Teddy's friend Kathleen who later helps them regularly on adventures and is a possible love interest for Jack.
Synopsis
Jack and Annie travel in their magic tree house to the land of the mystical selkies to seek a magical sword for Merlin.
Chapters
Summer Solstice
The Water Knight
Cave of the Spider Queen
Web Walk
Barrh! Barrh! 
The Selkie
Cove of the Stormy Coast
Cloak of the Old Gray Ghost
The Sword of Light
The Ancient Question
Sword and Rhyme
The Isle of Avalon
Notes on time and place settings