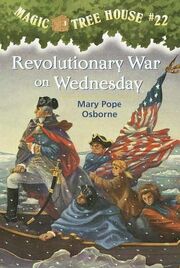 No Title

Book #

22

Previous

Next

Quartet

Publication date

September 26, 2000

Time setting

The Revolutionary War

Place setting

Delaware

Internal chronology

No information
Revolutionary War on Wednesday is the twenty-second installment to the Magic Tree House series. The book is preceded by Civil War on Sunday and succeded by Twister on Tuesday.
Synopsis
Using their magic tree house, Jack and Annie travel back to the time of the American Revolution and help General George Washington during his famous crossing of the Delaware River.
Chapters
Wednesday
Day or Night?
It's Time
Commander-in-Chief
The Letter
Crossing the Delaware
Spies!
These Are the Times
Flash!
This Peaceful Place
Notes on time and place settings