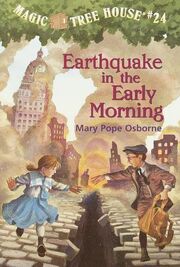 Earthquake in the Early Morning

Book #

24

Previous

Next

Quartet

Publication date

July 24, 2001

Time setting

1906

Place setting

San Francisco, California

Internal chronology

No information
Earthquake in the Early Morning is the twenty-fourth installment to the Magic Tree House series. The book is preceded by Twister on Tuesday and succeded by Stage Fright on a Summer Night.
Synopsis
The magic tree house takes Jack and Annie to San Francisco in 1906, in time for them to experience one of the biggest earthquakes the United States had ever known.
Chapters
Tweet-tweet
Thunder Under the Ground
The Great Shake
What's the Story?
Stop! Stop!
Something to Lend
Dynamite!
Good Luck, San Francisco!
The Wonderful Room
The Mystery of Morgan's Library
Notes on time and place settings
Community content is available under
CC-BY-SA
unless otherwise noted.