No Title

Book #

20

Previous

Next

Quartet

Publication date

March 14, 2000

Time setting

No information

Place setting

Ancient Australia

Internal chronology

No information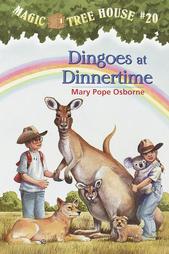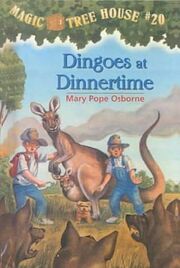 Dingoes at Dinnertime is the twentieth installment to the Magic Tree House series. The book is preceded by Tigers at Twilight and succeded Civil War on Sunday. It is revealed at the end of the book that the dog Jack and Annie have been helping, Teddy is actually a young boy who is training to be a sorcerer and accidentally changed himself into a dog. Morgan felt the boy needed to learn certain lessons before she would change him back which is why she sent them on the journeys with them. The boy, who tells Jack and Annie to call him Ted though they only do for the end of this book, later becomes a recurring character in the later books and one of their best friends and allies along with his selkie friend Kathleen.
Synopsis
The magic tree house whisks Jack and Annie away to Australia, where they must save some animals from a wildfire.
Chapters
The Last Gift
Sleepyhead
Big Foot
Joey
Wildfire!
Hand to Hand
Rain, Rain, Rain
The Rainbow Serpent
What Boy?
Dreamtime
Notes on time and place settings
Community content is available under
CC-BY-SA
unless otherwise noted.