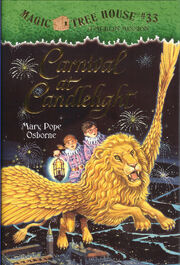 Carnival at Candlelight

Book #

33

Previous

Next

Quartet

Publication date

March 8, 2005

Time setting

The 1700s

Place setting

Venice, Italy

Internal chronology

No information
Carnival at Candlelight is the thirty-third installment to the Magic Tree House series and the fifth of the Merlin Missions.
Synopsis
While on a mission to prove to Merlin that they can use magic wisely, Jack and Annie travel to eighteenth-century Venice, Italy, to save the city from disaster.
Chapters
A Book of Magic
Carnival
The Grand Lady of the Lagoon
Rats!
Lorenzo
Disaster
The King and the Ruler
Home by Day
The Painting
Notes on time and place settings
Community content is available under
CC-BY-SA
unless otherwise noted.