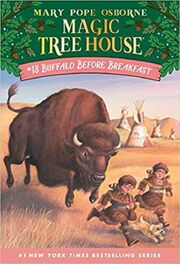 Buffalo Before Breakfast

Book #

18

Previous

Next

Quartet

Publication date

May 18, 1999

Time setting

The American Old West

Place setting

The Great Plains

Internal Chronology

No information
Buffalo Before Breakfast is the eighteenth installment to the Magic Tree House series. The book is preceded by Tonight on the Titanic and succeded by Tigers at Twilight.
Synopsis
The magic tree house takes Jack and Annie to the Great Plains, where they learn about the life of the Lakota Indians.
Chapters
Teddy's Back!
Ocean of Grass
Black Hawk
Good Manners
Sunlight and Midnight
Stampede!
White Buffalo Woman
Sacred Circle
Lakota School
Good Medicine
Notes on time and place settings